Mom and Dad, summer vacation 1973
It comes up at odd times, this missing my Dad, now dead almost a year and a half. We're on vacation this week (hence the quiet blog) back at the in-laws house in the Berkshires (thanks, Jim and Pat!) and so there's that back-again-in-a-place-we've-been-year-after-year quality to everything here.
Last year my husband had to leave us on our own for most of the vacation to go attend to his ill, soon-to-die mother. Last year I was still raw and newly grieving my father, still recovering from the harrowing end. This year we carry two newish ghosts with us.
A year and a half is a long enough time that I no longer think of my father daily. He is fading from the front of my consciousness much the way he faded from his own life in his last few years. But some times, some places bring him back into sharp focus for me, the tang of missing sharp and immediate again.
At the end, though he was still alive, the ill, dying father was so present, dominating my life completely for the last five or so months of his, that the other man, my wonderful, wonderfully alive father was eclipsed, all but lost to me. I called him up to write
my eulogy
, but still, for a long time spontaneous thoughts of father brought up a husk of a man, lost inside his own mind, howling in senseless pain, needing to move on but still somehow stuck in his near useless body.
Now that the memories of those last, dreadful months are thankfully fading, I am finding myself bombarded at moments with visions of the father I knew and loved for my many years. It's a new phase of grieving I suppose, and also, I believe I am feeling my way into the relationship I will have with my father - my memory-father - for the rest of my life.
The Berkshires are a place I had been with my parents a few times in our lives. Also, most notably, they hold an important place in my family mythos: my parents met at The Music Inn in Stockbridge one summer, 53 years ago.
Also, summer vacations were important times for my family, full of happy memories for me, of time enjoyably spent with my hard working parents, having tremendous fun together.
Whatever the reason, my father is very present with me on this trip. We pass a sign on a building, nearly daily as we drive about Great Barrington: "Caligari & Sons Construction" and every time I hear my father's voice in my head making a joke about what
strange kind of cabinets
they would build.
We drive up the road to my old childhood camp (where I went only one summer, but was wonderful and transformative for me nonetheless) to deliver paperwork for Jacob's upcoming week away, and I am flooded with memories of my parents coming to visit on Visitors Day.
We go to dinner at a local tavern (burgers and fries for the kids, what a surprise) and there is an old man sitting with his family at a booth across the room. I keep looking up, seeing him, and for a moment thinking it's my father, and the next moment feeling the sharp tap just above my heart that reminds me it can't be, not ever again.
Hello, Dad. It's nice to have you with me again, if only in memory. Mom misses you something fierce, every day. I carry your sense of humor, your delight in the absurd and unusual, about with me every day of my life.
Becoming a parent has taught me much about how apples don't fall far from trees. I'm glad you were my tree, Dad. Very glad, indeed.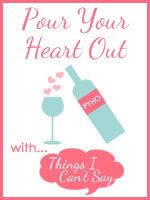 I'm also linking this post up to Shell's Pour Your Heart Out linky at

Things I Can't Say
Looking for comments? To read or leave a comment, click on THIS post's title, or HERE, to bring you to the post's page view. Comments should appear below.