Yesterday I had a
really rough day
with Jacob. But then sometimes, as if to tip the scales back a bit, the universe will throw me a bone; the gods of autism will show me something other than their asshole side.
Last night at bedtime, for the first time in ages (months I think), Jacob, out of the blue, said: "I love you, Mommy."
And then, spontaneously, this morning? He said it again.
Each time he said it I stopped what I was doing, went over to him, kissed him and told him that I loved him, too. Told him that I always know he loves me, but that it's also nice to hear it sometimes.
And then, to top it off, Jake's bus was running really late this morning. Really, really late, leaving us standing around in front of our building waiting for about half an hour.
There are days when this happens and it's a disaster, Jake getting agitated and anxious as the minutes tick by with no bus in sight.
All those dark winter wee-hour mornings spent sitting on the radiators in the cold outer lobby, hoping the bus wasn't stuck on an unplowed street, answering Jake's constant question "When is the bus coming, Mommy?" with yet another "I don't know, honey."
But that was not today.
Today was a perfect June morn, not too warm, not too cool, so we could stand outside and take in the breezes, admire the blue cloudlessness of the sky, the green of the trees of Riverside Park, lush in their newly clad spring foliage. Jake in a good yet not over-the-top giddy mood, chatting away with me, less annoying and repetitive than most mornings.
I had lucked out while parking yesterday, snagged the rock-star spot right in front of our building, and Jake was thrilled to find himself standing beside the family car as we waited.
"Paint the car, mommy? I want an orange car." Jake requested, and we engaged in a fun and silly conversation about all the ways we might repaint the car.
Jake refrained from yelling "Go away doggie, shoo!" at the many dogs that get walked past us every morning on their way to the park. He actually wanted to pet one particularly sweet and docile creature that lived in our building, chickening out at the last moment but seemingly satisfied when I stroked her in his stead.
Cheerful right until the end, when the bus pulled up, driver full of apologies and tales of a major accident on the West Side Highway snarling traffic for miles.
I kissed Jake goodbye, waved to the bus as it lumbered up the street, headed back inside to wake and ready Ethan for his coming day.
Thank you, universe, thank you (kinder, gentler) gods of autism.
I really needed that.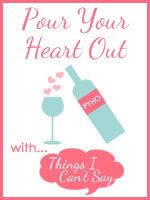 I'm also linking this post up to Shell's Pour Your Heart Out linky at Things I Can't Say
Looking for comments? To read or leave a comment, click on THIS post's title, or HERE, to bring you to the post's page view. Comments should appear below.